Mission Oak High School
Welcome to Mission Oak
MO R.E.I.G.N.
ASB Updates
Athletics Updates
Mission Oak Defeats Mt. Whitney In a Nail Biter
By Matthew Carrasco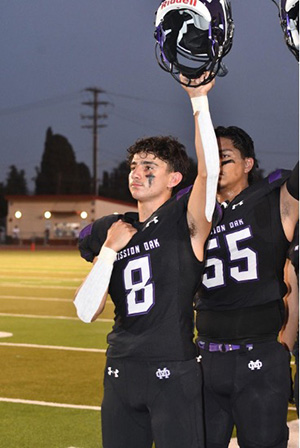 The Mission Oak Hawks (Tulare, CA) varsity football team won Friday's football matchup versus Mt. Whitney Pioneers (Visalia, CA) by a score of 25 to 22.This victory propelled the Hawks to a perfect 4-0 record.
Running back Kenny Jackson put Mission Oak on the board with an electrifying 45-yard touchdown run to put the Hawks up.
The game went into halftime with a low-scoring affair with the Hawks up 7-0.
The battle picked up in the third quarter with the Pioneers putting up 14 points and Hawks putting up 12. In the fourth, the Hawks tallied six more points while the Pioneers put up eight additional points. The Hawks came up on top with a score of 25 to 22.
Notable players for Tulare being HB Achilles Sierra and MLB Micah Mendez.
Notable players for Visalia were HB Kysen Sing and QB Micah Rodriguez.
This victory also allowed Mission Oak to secure first in the West Yosemite League standings.
The Hawks are looking forward to taking on Central Valley Christian of Visalia at home on Friday, September 15.
Be sure to visit our Athletics page for the latest MOHS athletics news!
Important Information for Seniors
Mission Oak Protective Services and Law Academy